It has been almost 15 years since Jim Molloy Promotions last presented Maritana, The Bohemian Girl and The Lily of Killarney. These works still have a special place in the hearts of Irish people.
Maritana, composed by Waterford born Vincent Wallace is packed with hit numbers such as "The Angelus Chorus", "In Happy Moments", "Let me Like a Soldier Fall" and "Scenes That Are Brightest".
The Bohemian Girl by Dublin born Michael Balfe is bursting with such gems as "The Gipsy Chorus", "I Dreamt I Dwelt in Marble Halls" and "When Other Lips" and finally, German-born Sir Julius Benedict's The Lily of Killarney containing such favourites as "The Moon hath raised her lamp above", "It is a charming Girl I know", "I'm Alone" and "Eily Mavoureneen."
 
With our four soloists, the Enchiriadas Treis Choir and The Irish Ring Orchestra we hope that you will come along and savour once again the Magic of The Irish Ring Concert.
Early booking is advisable.
Emma Walsh, soprano
Derek Ryan, bass-baritone
Deirdre Masterson, mezzo soprano
Anthony Kearns, tenor
Enchiriadas Treis Choir (Music Director Cathal Clinch)
The Irish Ring Orchestra
Aidan Faughey, conductor
Angela Kelly-Molloy, host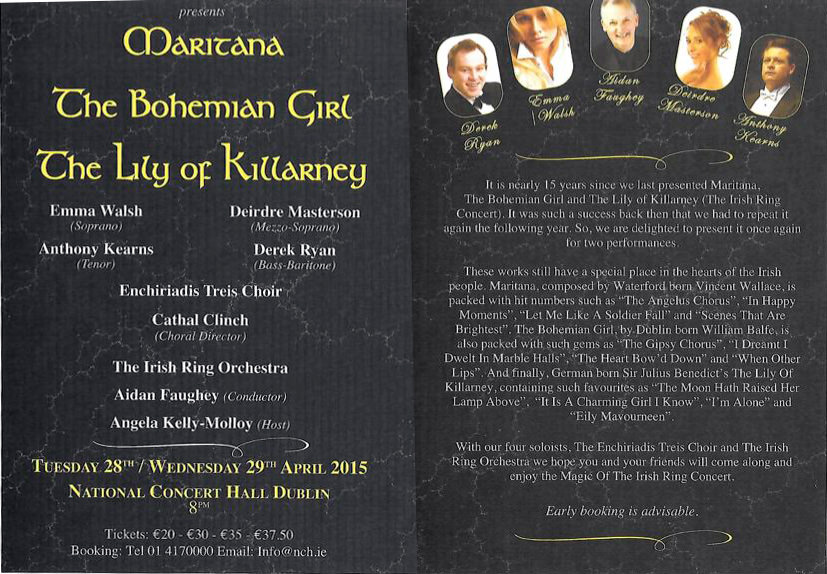 6/7